The benefits of routine fertility visits have long been recognised.  However we feel that by solely examining the cows which are presented, opportunities for increased efficiency and profitability may be missed.
We try to take a wider approach on our routine fertility visits.  This includes
Regular assessment of calf management: looking after your future herd
Consideration of body condition and mobility
Proactive infectious disease management
Practical nutrition advice and production monitoring
Active udder health management
Farm data analysis and advice
Increasingly milk buyers are enforcing various health initiatives, such as Johne's monitoring and Selective Dry Cow Therapy.  We are here to guide you through these changes and assist in reaping the benefits, rather than just 'ticking boxes'.
Calf Health
The challenges of dairy cow fertility are helped by weekly or fortnightly vet visits, yet too often the complexities of calf rearing in the key 8-week window go untracked.  Find out more about our Calf Tracker visits dedicated to calf health here.
Farm Data Analysis
The chart below shows the average age at first calving for some of our herds.  The lines indicate the target age and the national average.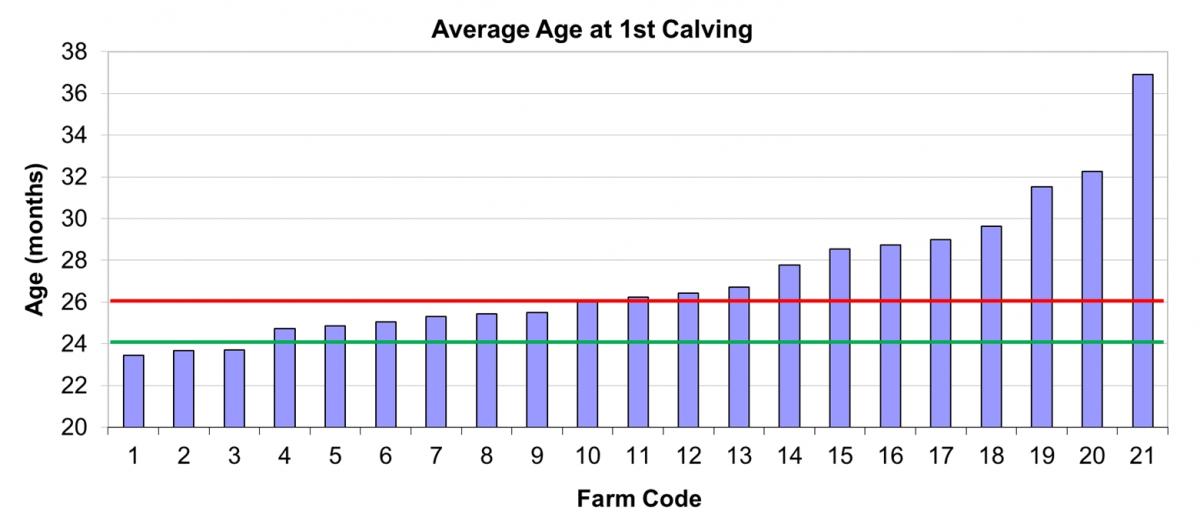 The following graph shows First Service Timing and permits an assessment of both timing in relation to the voluntary waiting period, and service outcomes.